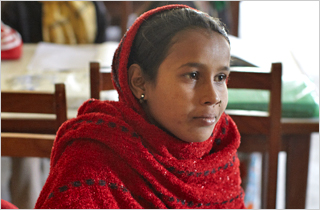 In 1989, one year before the International Literacy Year as well as the World Conference on Education for All (EFA) in Jomtien, Thailand, the NFUAJ launched the "World TERAKOYA Movement (WTM)", an international cooperation program for non-formal education.
The core objective of the WTM is to provide adult illiterates and out-of-school children with opportunities to learn literacy and places of learning (TERAKOYA = CLC: Community Learning Center), in cooperation with governmental, non-governmental, local and international organizations in partner states.
What is TERAKOYA?
TERAKOYAs were private literacy classes that were actively operated during the EDO period (17th to 19th centuries) in Japan.
Anybody could attend, regardless of social status, and nationwide expansion of TERAKOYA contributed to a high literacy rate in Japan even before the introduction of the modern educational system.
Wishing to share the message that the foundation for national development is education of people at the grass roots level, the NFUAJ named this non-formal education program as the World TERAKOYA Movement.
Achievement so far
So far, more than 1.31 million people in 44 countries and one region have benefitted from the chance to receive an education at TERKOYAs (CLCs). About 17,000 classes were conducted at TERAKOYAs including home, school buildings and camps. In the world today, however, about 750 million adults (age15+) still remain illiterate, and 12.4 million of children (age 6-14) have no chance to go to school. World TERAKOYA Movement willl be carried on so that we may achieve the world where no one will be left behind and everyone can participate in achieving the global goal of SDGs.